Some people only call their eye doctor if they are having a vision issue. While it is necessary to call the eye doctor if something is wrong, you should also schedule an eye exam once per year. We have gathered a few reasons why annual eye exams with one of our optometrists at University Eye Associates are a good idea.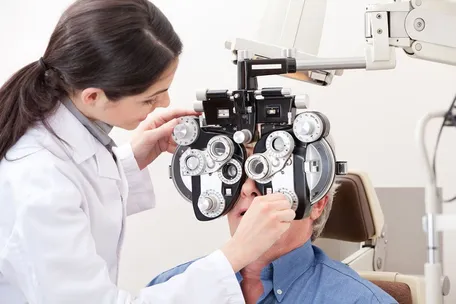 Keep Your Prescriptions Updated
Your eyeglass prescription is only valid for one year. If you break your glasses or lose them, you will need a valid prescription to have a new pair made. If your prescription is not valid, you will have to go without new glasses until receiving another eye exam, which could take a few days. Your contact lens prescription is also valid for one year.
Vision Changes Occur Gradually
Vision changes occur so gradually that you might not realize that your vision has become worse. If you are wearing eyeglasses or contacts that are not strong enough, you may experience headaches and eye fatigue. When you have an eye exam every year, our eye doctors will examine your eyes to determine if you need a stronger prescription.
Many Conditions of the Eyes Show No Early Symptoms
There are serious conditions that can cause permanent vision loss and show no early symptoms. A few examples include glaucoma, macular degeneration, and diabetic retinopathy. If our eye doctor detects any of these conditions during your annual eye exam, we can begin treatments that will slow the progression of the disease. If you do not have your eyes examined yearly and you have one of these conditions, permanent vision loss may occur sooner.
Diabetes
Diabetes can affect many of your body's systems, including your eyes. Even if you have good control over your diabetes, you are still at risk. Being diabetic can cause permanent vision loss, therefore it is essential to schedule an eye exam every year. There are treatment options available to slow progression and preserve your vision longer.
Diagnosing Medical Conditions
Certain medical conditions can be detected during your annual eye exam. In some cases, your eye doctor can detect these conditions before your annual visit to your primary care physician. These are all serious conditions and would require treatment right away. These conditions include:
Diabetes
High blood pressure
High cholesterol
Rheumatoid arthritis
Autoimmune diseases
Brain tumors
Skin cancer
Leukemia
Book Your Next Eye Exam with University Eye Associates
If you are due for your annual eye exam, schedule an appointment with our team at University Eye Associates. Our optometrists will perform a complete eye exam to ensure your eyes are in good health. We will also update your prescription and check for any underlying medical conditions. Contact us today to see how our optometrists can help you in our Charlotte, Davidson, or Harrisburg (Rocky River) locations.